Your-Empowering-Others Prepares You to Teach Those You Think Can Help You
Your-empowering-others is a type of leadership that enable you as a self-leader, who leads yourself to your own success to provoke others. You possess a lot of tacit and explicit assets that you can easily mobilise very quickly.  You either possess or have access to a significant resource pool of intellectual capital in form of human capital or people with skills, knowledge, expertise and experience; structural capital or well organised structure, which are flexible and responsive to changing conditions such as business processes, decisions, accountability, reward, and regulating structures, relations with different organisations and institutions such as bankers, financiers, venture capitalists.  You can use this intellectual property to create a foundation for learning for those who you need to make decisions on your behalf in different initiatives.  You should also identify training or development programmes - specialised or general - so that you can expose those of your team who need to develop in areas you identify.
---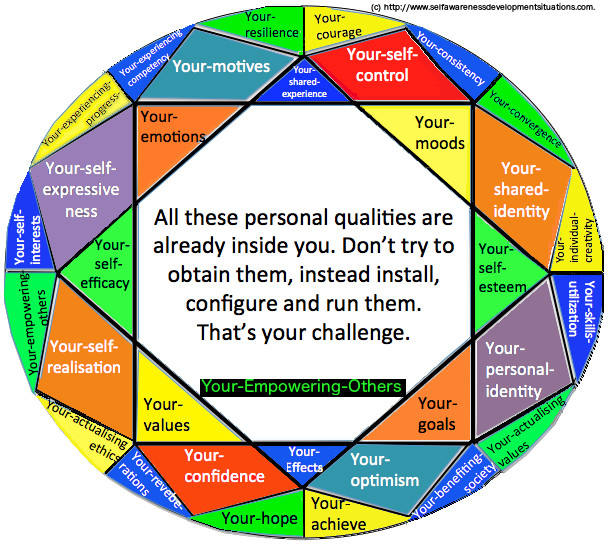 ---
Move From Self-Empowering to Your-Empowering-Others
To begin your-empowering-others you should have empowered yourself already in the subject matter or area of life you are intending to empower others.  Its always a movement from self to others that creates the empowerment.
---
Your-Empowering-Others Enables You to Look For Those Who You Can Adopt as Your Coaches
To develop and go forward you need to leverage, either near or remotely,  some other intellectual property.  With the internet, mobile devices, social media, data availability and now artificial intelligence coming in and converting the world into things-of-things (internet-of-things is just one of these), your access to a huge pool of skills, expertise and experience is really at your finger tips.    Of course the more formal way is to get in contact with whoever you are interested in and get their feedback about your request.  Then you take it from there.  Between the simplest and the formal way you could adopt a variation of tactics as long as they advance you to where you want to be in your self-awareness development process.  You can choose or combine methods between using proven experts or a more informal method.  There are more practical things (note: will open in a new window) you can do to empower others.
---
Proven Experts in the Field You Have Interest in
Your simplest way to get a coach is get the material of the person you know is a proven expert in the field you have interest in, in the subjects you are studying or practicing your trade.  Sources of material from your favourite remote coach maybe widely available on the internet databases, their internet website with a subscription webpage that pushes news letters to your email periodically, in book shops, in libraries and other media.
---
Use of More Informal Methods
If you are not a formal person you may not enjoy a formal coaching process, however it is always advisable to try it out.  The simplest way is the most wide spread method since to access any material all you need is a computer or mobile device with a good browser software and access to the internet
---
Now, Consider That Situation You Faced...

Did the situation enable you to think about teaching those who you think can help you?
Did the situation enable you to move from self empowering to your empowering others?
Did the situation enable you to look for those you can adopt as your remote coaches?
Did you consider adopting coaches from proven experts in the field you are interested in?
Did you adopt any formal methods of empowering others?
If you said yes to any of the above questions it would be a good time to pause and reflect on what you can do to sharpen your response ability in that area.  If you would like to here from us when more articles become available feel free to send us your message on our contact us page or go directly to our What's New! page.

---
Self awareness development situations is here to enable you to get your victories and keep your victories. So that when you overcome a situation you will keep overcoming it's manifestations because you utilise very potent tools to succeed. This is your formidable challenge in life. It is normal! You will go through such challenges several times in your life. You will come to realize that whether it was during your childhood, teenage, youth, young adult, adult or old-age the same tools remain potent for your success - your continual upgrade of your self awareness development.