December 14th 2018 #075
---
How To Walk With Your-Personal-Identity
---
Consider Your-Personal-Identity To Be Just Like Your Personal Assistant
---
If you, meaning the Self of you, were different from your-personal-identity just like a manager in a company has a personal assistant, wouldn't your-personal-identity be the assistant of the self that is you. In other words, let there be a distinction between you as in (YOU) and your-personal-identity as a separate and self-determining living being. You and your-personal-identity will need to agree on things and walk in agreement with each other.

For example, agree to go to sleep, to wake up, to go bath, eat, to do physical exercise, to talk to other people, to study anything, to go out, to take part in sports and even to compete in tournaments, to relax and many other agreements that you would normally take for granted.

Once you are agreed then those watching might say something like: You (the Self of you) walks with your-personal-identity and you are aware of how you use your-skills, meaning Your-Skills-Utilisation . So here is one way you might visualise your walk.
---
---
Make sure, in your mind, that you paste your-personal-identity to your chosen picture. Make sure, in your mind, that you paste Your-Skills-Utilisation on your chosen picture and then ponder upon this combination. Make sure, in your mind, that all your above action efforts are surrounded by the image that represents your-self-efficacy .
---
Select 3 Images ...
---
Have you chosen a drawing that best represents your-personal-identity and then pondered upon this image. This is an incremental creative process or mental gym in which you grow from one session to the next.

Now, check that you have followed similar steps to do Your-Skills-Utilisation and similar steps to do your-self-efficacy
---
Lastly, Select an image that Best Represents...
---
your combination of these 3 personal qualities..

Ask yourself the following question. Which personal quality from the 3 is most projected at you right now? Say for example, your-personal-identity. Then zoom in there, through something like:

1) "You are "Aware" of your-personal-identity as your personal assistant?"

2) "You "Engage" or consult with your-personal-identity as your personal assistant?"

3) "You collaborate with (and base or align your decisions to) your-personal-identity?"

4) "Your-self-efficacy is always orientating and driving your (self's) walk with your-personal-identity using your-skills-utilisation?".

5) Finally, " your-self-efficacy covers (girdles) your-personal-identity together with Your-Skills-Utilisation when you find yourself inside your personally challenging situations?"
---
Then, Verbalise Your Creative-Selfcontrolled-Purpose
---
Make Real-time Consciousness of Personal-Identity-Awareness In Situations Your Awareness Priority!
---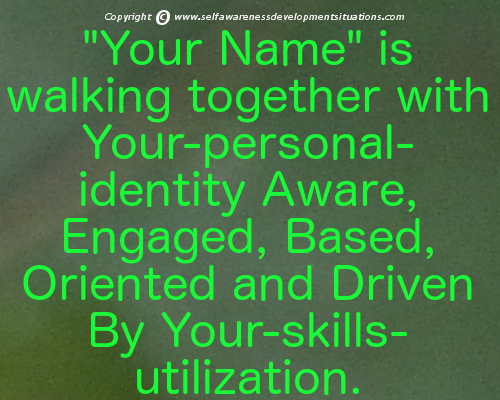 Note: Replace The Words "Your Name", "Your", "You" with Your Actual Name and Then Verbalize It!
---
Your Next Newsletter is How To Walk Inside Your Shared-Group-Identity
---
Look forward to more on Awareness Situation's Series on your awareness consciousness of personal qualities chart - The PQ Chart.
---
Continue Your Self Awareness Development
---
Learn Some More "How Tos" In Our New Self-Leadership Course
---
Self-Leadership By Your Own Precision Words for Beginner's
---
This "how-to" stuff is a snippet from our unique course on self-leadership by your own precision words. You have just read some of our solutions to the ever-present challenge for a fresher and more advanced consciousness in today's world.

So take a preview of the course by visiting Self-Leadership By Your Own Precision Words for Beginner's at Udemy.
---
My Awareness Situations Blog
If You Want to Know What's New!
---
Awareness situations periodically releases articles on self awareness development situations focusing on how you can overcome in any situation you find yourself in.

If you want to find out about all that's new please head over to awareness situations blog at My Awareness Situations Blog While still on the same page you may subscribe to awareness situations RSS feeds or use this Awareness RSS Feed
Why Do I Use SBI?
---
SBI is a well integrated set of Tools, Processes and Teams You Will find In One Place Online.
---
Your Feedback is Invaluable
---
I will appreciate your feedback very much and thank you for taking the time. Send Me Your Feedback
---
Follow Me On Social Media
---
Follow Awareness Situations On One of These
---
___ __LinkedIn _Twitter _Google Plus _My Pins __YouTube Facebook
---