January 5th 2018 #030
---
Verbalize Your Weekly Objective And Act To Achieve Same
---
You Can Review Your Overall Purpose 'Bread' And Cut Yourself Your 2018 'Slices'
Cut yourself your-objective-slice from your purpose 'bread' every week and accomplish 52 objectives in this year. Doing your purpose is this simple.

Your awareness situations would suggest to you that according to leading or best practices in advanced companies or organisations, there exists some kind of specialized purposes that only differ in terms of how complex they are and the duration it takes that company or organisation to achieve such purposes.

So for example, the words: vision, mission, goals, and objectives all fall into one family or team referred to as a purpose hierarchy within that company or organization.

This enables a company or organisation to allocate its different departments some objective slices of the purpose bread, so to speak.
---
Notice That An Organisation is Nothing More Than The Manifestation of A Named Person's Purpose
---
As humans, we generally associate achievements with the individual geniuses who spent their lives championing the ideas until the ideas became tangible things, events, processes or phenomena or what today are called 'brands'.

For example: the brand 'Apple' is associated with an individual, 'Mr. Steve Jobs'.

The same is true with you as a person. The questions that are left to you are:

Which idea is making you not to have sleep? Or should we put it to you like this.

Which vision or dream causes you sleepless nights? or

What mission is this you are deeply thing about? or

What goals have you set yourself? or

What objectives are you accomplishing day-in and day-out, week-in and week-out?

It is easier for you to work with the last question, on objectives.

We are in the 1st week of another installment of 52 weeks for 2018.
---
If Only You Set Yourself Just One Objective A Week and Make Sure You Achieve That Objective
---
You may consider an objective as simply a particular value you desire of your personal things or processes, such as, your awareness on a subject: maths or planning.

If you set yourself such objectives, one each week and accomplish them, you will have accomplished 52 objectives by the end of this year.

Doing your purpose is as easy as eating slices of bread one slice per week.

Notice, though, the temptation to eat the whole bread in just one week!?

What, then, should you do?
---
Firstly, Condition Yourself to Setting Weekly Objectives, Start Small - Cut a Slice!
---
How? You just say that "you set yourself weekly objectives and achieve them" and then go ahead and just do that action that will get you to your objective.

If the 'bread' is your purpose then the 'slice' is your objective. You should say it and do it.

Say it enough times and you will one day be surprised that that which you were saying has become second nature and you are now doing it.

You will be surprised at yourself, indeed.

When you speak correctly you cause innovative energy to flow through your humanity, ubuntu, to energize your physical muscles to provoke you to action.
---
---
Self Awareness Development
---
Become Conscious of the AEBOD In Your-Objective-Slice
---
You will generate your objectives consciousness by firstly speaking to yourself the new consciousness you desire.

You can enhance your speaking by using the key - AEBOD to acquire and verbalize your-objective-slice.

To read more on your-purpose please go to Your-Purpose
---
My Awareness Situations Blog
If You Want to Know What's New!
---
I periodically release articles on self awareness development situations focusing on how you can overcome in any situation you find yourself in.

There are more articles that you will find useful for your own self awareness development.

Your latest awareness challenge is to read up on

Your-Achieve Or if you want to find out about all that's new please head over to awareness situations blog at My Awareness Situations Blog While still on the same page you may subscribe to awareness situations RSS feeds or use this Awareness RSS Feed
---
The Tools I Use - What is SBI?
Productivity Depends on Process, Tools & Teams
---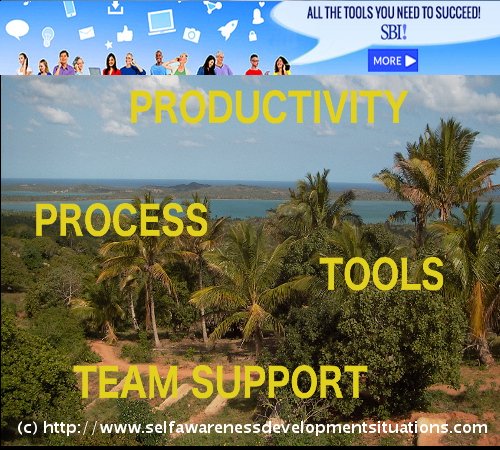 ---
Why Do I Use SBI?
---
One day during my MBA studies I realised that as an employee and a best practices consultant in software development it was common practice to quickly learn a tool, process and tool guides, write a certification exam, become certified and get out to tell other companies what and how they should deploy software solutions to make profit or gain competitive advantage

Then I discovered a question for myself. Why don't I develop my own products? I guess that was the best thing I learnt from my MBA studies. Of course the MBA instigated this behaviour in me. My MBA thesis supplied the business concept and material. Now I needed to get down to productivity.

After a long research for the best in class tools for personal application, I found SBI. Initially I was sceptical, but as I explored the SBI process, the tools and the core SBI support team including the more than 380 business sites that are running on top of SBI, I realised I was home and dry.

I hope you can enjoy as i am doing, slowly, step by step, just like the tortoise! Its a copycat cyclical game. You read, you check out some examples, you experiment on your own site and your release that part of your product and monitor it's performance.
---
Your Feedback is Invaluable
---
Have you ever had that warm and fuzzy feeling when you open your emails one morning or afternoon and you find that a fellow active verbalize-your-action reader has actually taken the time to tell you how much she appreciates your hard work?

Its totally something magnificent. You cannot put works to this level of appreciation. However, that is the fuel that keep us going, mining for the best verbalize-your-action pearls we can find so that we can continue to encourage our readers to keep expanding your awareness.

After all we all are in this human journey together and the more of us become aware of how to deal with situations the better our world gets!

I appreciate your feedback very much and thank you for your time. Send Me Your Feedback
---
Follow Me On Social Media
---
Follow Awareness Situations On One of These
---
LinkedIn
Twitter
Google Plus
My Pins
YouTube
Facebook
---