August 3 2017 #008
---
Do Your Own Tactics
---
Tactics are those methods, techniques, that you employ or use to perform in the course of doing your role. This could be in your own individual activity or as part of your team. To do your tactics means to be authentically efficacious in doing your role.

For example, if you are participating in any tournament of sorts, this implies you already should be understanding your role well, and are ready to apply your unique methods to achieve your purpose, as an individual, or contribute to the achievement of your team's purpose in that tournament.

Your tactics could read like this: "If this kind of situation arises, i will combine these defensive movements with those offensive movements to win in that situation."
---
Do Your Tactics Inside Situations
---
A situation usually requires a number of tactics that you should interlink in a coordinated fashion. An onerous response will normally help you in elementary situations. Any significant goal you have to achieve is always preceded by a complex of situations (many elementary situations grouped together as if by design) coming at you with increasing demand of your resources, including a combination of your personal and team capabilities.
---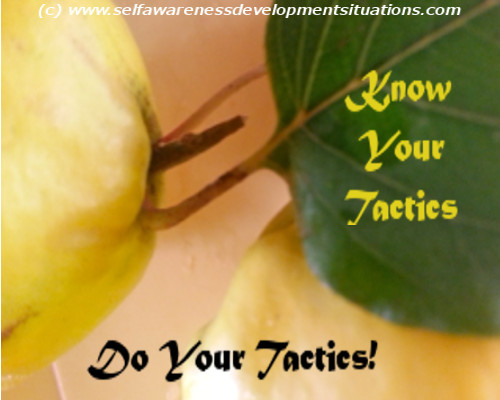 ---
Your Purpose is Filled With A Variety of Tactic-demanding Situations
---
In the course of your personal journey to achieve your purpose you will move from conquering one situation to conquering another situation in the tournaments of your life.

For example, why do you think a tournament has a pre-qualification stage, a qualification stage, a knockout or eliminations stage, a 1/16th stage, a quarter final stage. a semi-final stage, a third-place stage and a final stage. There are so many tournaments and more are still being innovated.

This innovation process will not stop. We will see more new tournaments as long the human being continues to live. We are fast approaching a time when we will be watching tournaments wherein are teams of humans and AI beings, much like the "transformer" series of movies. At each stage of a tournament, if no other person or team beats your tactics with their own tactics and your strategy is superior to their strategy, and of course assume that all other things remain the same, you will win the tournament.

In other words your tactics will come up tops in all the situations that will confront you on and off the field of play.
---
Verbalize-your-tactics
---
The dictionary uses the word tactic in various exciting ways: 'a tactic employed', 'using delaying tactics', 'tactical play', 'tactical weapon', and so on. You even have a profession of master tactician in, for example, soccer, which should give you an idea of how you can actually develop your skills and experience utilizing tactics in your life.

It becomes even more exciting when you consider that the response abilities in your mind that you need to develop and mature in order for you to see personal qualities materialize in your everyday life, such as, your-personal-identity, your-control, your-efficacy, your-confidence, your-hope, and ultimately your-goals are in fact the tactics of a higher order.

How do you bring these higher tactics into your life? You start by verbalizing the actual word "tactic" such as in the following verbalization.
---
---
Self Awareness Development
Nature is full of Creatures Implementing Tactics?
---
One of the interesting creatures that knows how to blend into situations, which I consider has a high situational awareness is the chameleon.

Just check out this Incredible Chameleon Camouflage
---
My Awareness Situations Blog
If You Want to Know What's New!
---
I periodically release articles on self awareness development situations focusing on how you can overcome in any situation you find yourself in.

There are more articles that you will find useful for your own self awareness development.

To find out what's new please head over to my awareness situations blog at My Awareness Situations Blog While still on the same page you may subscribe to my RSS feeds or use this Awareness RSS Feed
---
The Tools I Use - What is SBI?
Productivity Depends on Process, Tools & Teams
---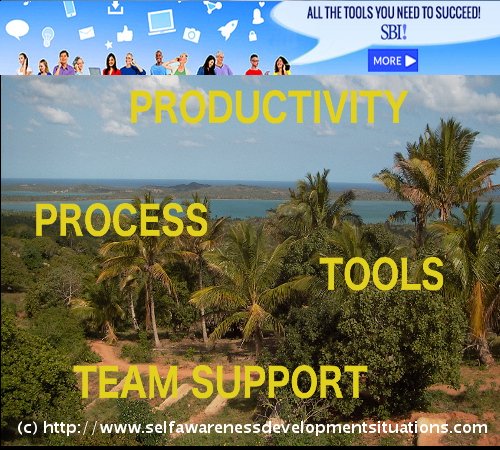 ---
Why Do I Use SBI?
---
One day during my MBA studies I realised that as an employee and a best practices consultant in software development it was common practice to quickly learn a tool, process and tool guides, write a certification exam, become certified and get out to tell other companies what and how they should deploy software solutions to make profit or gain competitive advantage

Then I discovered a question for myself. Why don't I develop my own products? I guess that was the best thing I learnt from my MBA studies. Of course the MBA instigated this behaviour in me. My MBA thesis supplied the business concept and material. Now I needed to get down to productivity.

After a long research for the best in class, I found SBI. Initially I was sceptical, but as I explored the SBI process, the tools and the core SBI support team including the more than 380 business sites that are running on top of SBI, I realised I was home and dry.

I hope you can enjoy as i am doing, slowly, step by step, just like the tortoise! Its a copycat cyclical game. You read, you check out some examples, you experiment on your own site and your release that part of your product and monitor it's performance.
---
Your Feedback is Invaluable
---
Have you ever had that warm and fuzzy feeling when you open your emails one morning or afternoon and you find that a fellow active verbalize-your-action reader has actually taken the time to tell you how much she appreciates your hard work?

Its totally something magnificent. You cannot put works to this level of appreciation. However, that is the fuel that keep us going, mining for the best verbalize-your-action pearls we can find so that we can continue to encourage our readers to keep expanding your awareness.

After all we all are in this human journey together and the more of us become aware of how to deal with situations the better our world gets!

I appreciate your feedback very much and thank you for your time. Send Me Your Feedback
---
Follow Me On Social Media
---
Follow Awareness Situations On One of These
---
LinkedIn
Twitter
Google Plus
My Pins
YouTube
Facebook
---